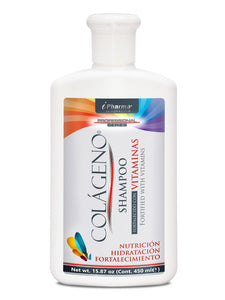 iPharma
Collagen Shampoo With Vitamins 450 ml
Regular price
$29.99
$0.00
Shampoo with the ideal balance of vitamins that hair needs to stay healthy. Vitamins provide nutrition to the scalp and hydrate and strengthen hair, both damaged as normal. Vitamins E and C provide protection against oxidation. B3, B5 and B6 improve hydration, structure and provide nutrition for proper metabolism of the scalp.
Presentation
450 ml bottle
Application
Hair and Scalp
How to use
Apply to wet hair, massage gently and rinse. Repeat if necessary.
Stability
This product is stable for 24 months at temperatures below 30 ° C. Keep this product in a cool and protected from sunlight.
Precautions
Avoid contact with eyes, if this occurs rinse with water.
Restrictions
This product is not considered harmful for use during pregnancy and / or lactation.
(Spanish)
Colágeno Shampoo Con Vitaminas 450 ml
Shampoo con el balance ideal de vitaminas que requiere el cabello para mantenerse saludable. Sus vitaminas proporcionan nutrición al cuero cabelludo e hidratan y fortalecen el cabello, tanto dañado como normal. Las vitaminas E y C ofrecen protección contra la oxidación. Las vitaminas B3, B5 y B6 mejoran la hidratación, estructura y proveen nutrición para un correcto metabolismo del cuero cabelludo.
Presentación
Frasco con 450 ml
Aplicación
Cabello y cuero cabelludo
Modo de uso
Aplicar sobre el cabello mojado, masajear suavemente y enjuagar. Repetir si es necesario.
Estabilidad
Este producto es estable durante 24 meses a températuras menores de 30°C. Mantenga este producto en un lugar fresco y protegido de la luz solar.
Precauciones
Evite el contacto con los ojos, si esto ocurre enjuague con abundante agua.
Restricciones
Este producto no se considera nocivo para su uso durante el embarazo y/o lactancia.
---
Share this Product
---
More from this collection