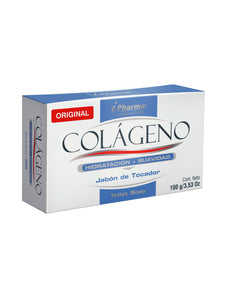 iPharma
Collagen Bar Soap 3 Pack
Regular price
$17.99
$0.00
Collagen Bar Soap is a soap developed to clean the skin properly hydrated and leaving it feeling smooth, in addition to providing a soft and pleasant aroma.
Specifications
Soap bar 100g.
Application
Facial and body.
How to use
Apply on wet skin with a gentle massage into a lather and rinse.
Stability
The product is stable stored in a cool place no more than 30 ° C and protected from sunlight.
Precautions
Avoid contact with eyes, if this occurs rinse with plenty of water. If irritation occurs or any adverse effects stop using the product and consult your doctor.
(Spanish)
Descripción
Colágeno Jabón en Barra, es un jabón desarrollado para limpiar de manera adecuada la piel dejandola hidratada y con una sensación de suavidad, ademas de proporcionar un suave y agradable aroma.
Presentación
Barra de jabón de 100g
Aplicación
Facial y corporal.
Modo de uso
Aplicar en la piel mojada con un suave masaje hasta formar espuma y enjuagar.
Estabilidad
El producto es estable almacenado en un lugar fresco a no mas de 30°C y protegido de la luz solar.
Precauciones
Evite el contacto con los ojos, si esto ocurre enjuague con abundante agua.Si presenta irritación o algún efecto adverso suspenda el uso del producto y consulte a su médico.
Restricciones
---
Share this Product
---
More from this collection