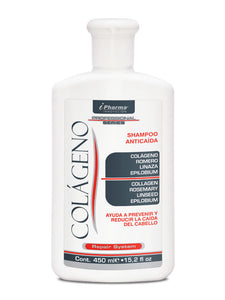 iPharma
Collagen Repair System Anti-Hair Loss Shampoo 450 ml
Regular price
$25.99
$0.00
Collagen Repair System Shampoo contains collagen and rosemary extracts, Linseed and Epilobium to help reduce hair loss, strengthening the hair follicle and providing silkiness, shine and anti-frizz.
Presentation
Container with 450 ml
Application
Hair and scalp.
How to use
Wet hair, apply and massage evenly on the scalp and hair, leave for a minute and rinse.
Stability
The product is stable for 48 months under temperature of no more than 35 ° C and protected from sunlight.
Precautions
Keep out of reach of children. In case of contact with eyes, rinse with plenty of water. If irritation occurs or any adverse effects stop using the product and consult your doctor.
(Spanish)
Colágeno Shampoo Repair System contiene colágeno y extractos de Romero, Linaza y Epilobium que ayudan a reducir la caída del cabello, fortaleciendo el folículo piloso y brindando sedosidad, brillo y anti-frizz.
Presentación
Envase con 450 ml
Aplicación
Cabello y cuero cabelludo.
Modo de uso
Mojar el cabello, aplicar y masajear uniformemente sobre el cuero cabelludo y pelo,dejar actuar por un minuto y enjuagar.
Estabilidad
El producto es estable durante 48 meses en condiciones de temperatura de no más de 35°C y protegido de la luz solar.
Precauciones
Mantener fuera del alcance de los niños.En caso de contacto con los ojos, enjuagar con abundante agua.Si presenta irritación o algún efecto adverso suspenda el uso del producto y consulte a su médico.
---
Share this Product
---
More from this collection